Please help Jafar's family until Israel releases him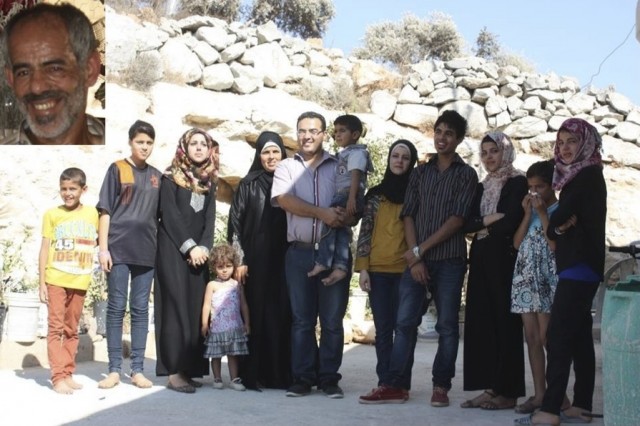 "It feels so bad coming home and not finding father. We used to sit together every day and talk when he came back from work. Sometimes he helped me with my projects and gave me ideas. It feels bad seeing my mother and siblings cry every day. I can't cry in front of them because I am the oldest.  All I want is for my father to come home

."
These words were spoken by Razan Sawalha, the daughter of Jafar Sawalha, age 56, who was arrested by Israeli forces after completing a long day's work inside historical Palestine (Israel). His only crime was to try to earn a living for his family in an area Israel says he is not welcome.
Jafar has been working "illegally" inside what is now Israel for years to feed and educate his large family.  He has 11 children, 7 girls and 4 boys, 3 of whom are currently in university and the youngest is only 3 years old.
Every day Jafar awoke early and made the arduous and dangerous journey inside historical Palestine, to give his children an education so that they might not have to endure the same journey as himself. He would arrive home late, to begin again just a few short hours later.
As a result of these long hours, and without any protection from exploitation, Jafar suffers from a rupture in his right eye and inflammation of his leg. 
Like many Palestinians, Jafar makes this dangerous journey because the besieged West Bank economy provides few opportunities. The World Bank reports unemployment at 19%. Wages are 3 times higher in Israel (although Palestinians still receive significantly less than their Israeli counterparts). As many as 42,000 Palestinians rely on the income from work inside historical Palestine. Many of them, like Jafar, are denied work permits.

On 26 February, 2014, Jafar was sentenced to 3 months imprisonment and a 1500NIS fine ($430). Upon hearing the judgement he collapsed and his daughter, who was present in the court, fell into despair. Jafar was the main breadwinner of the family. Without him, the children will be unable to sustain themselves and their studies.

PLEASE HELP!
Our goal is to raise $1500, which will pay Jafar's fine, provide enough income for the family to survive until his return, and allow the older children to remain in university. Your contribution will help the family through these hard times and and give Jafar some piece of mind. Please send tax-exempt donations by check to
Palestine Children's Welfare Fund

405 Vista Heights Road
El Cerrito, CA 94530, USA
or use the PayPal button below:
For more information: Katie Leslie, 
+ 972 597 99 7378
 (international calls), 0597 99 7378 (national calls), email: 
k
atie@peace-not-war.org
. PCWF will forward the funds to Solidarity Movement or a Free Palestine (SFP), for the purposes described.
The Palestine Children's Welfare Fund, registration no. 20-5516191 is a 501(c)(3) nonprofit corporation registered with the U.S. Internal Revenue Service for tax exemption.
---
---