Thank you! Thank you! Thank you!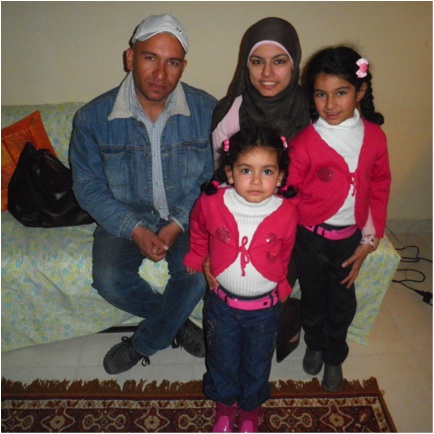 Here is what your donations accomplished.  
1.  Hiba Budeir was released from prison on August 12, thanks to your donations.  On April 2, Hiba, age 27, was taken from Khaled and their daughters Malak (7)  Yara (5). Hiba is a sweet, very shy young woman who lives for her family, for taking Malak and Yara to play in the park, to bake cakes for family and friends, to do traditional embroidery and to go shopping with friends. She was charged for "being in the company of terrorists" and would have spent another eight months in prison without your donations.
2.  Toys for Gaza.  You sent money for toys for children in Gaza, delivered by Dr. Sarah Marusek in June as part of the Miles of Smiles campaign that also delivers medical equipment and other needed supplies.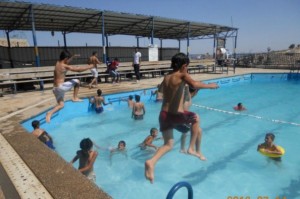 3.  Children's Summer Camp in al-Masara.  Your generosity enabled a summer camp in the threatened Palestinian village of al-Masara, where Israeli forces are confiscating land.  Below is the report of organizer Mahmoud Aladeen and a picture of the swim center that your funds enabled the children to use as part of their activities – a rare treat.
Report of Al Ma'sara village  Summer Camp 2013
From 10 of June  to 30 of June
The AL Ma'sara village  Summer Camp is a project that was initiated for young children from south of Bethlehem and Bethlehem city during their summer holidays. Trapped within the imprisoning nature of occupation the children spend the rest of the year in uncertainty, in a climate of poverty, limited opportunity, instability, forever with the threat of violence imposed by the military presence. This year 117 children attended the summer camp, where almost one quarter of them have family members detained within prisons.
The children attending the summer camp come from Bethlehem and at least nine different villages in the surrounding areas. Classes would begin at eight in the morning, until the early afternoon. The children received at least one hour of English Class each day, with the prospect of using the foreign languages as a means of connecting with international communities, whilst increasing opportunities to pursue higher studies and employment abroad.
Teachers would hold classes to encourage the acquisition of general knowledge, in addition to lessons about Palestinian history, culture, and tutorials on world history.
During the week the children would enjoy forty minute sessions of Dabke dancing, the Palestinian national dance, where they could embrace and express themselves through the national pass temps.
Notably, they exclaimed at the chance of singing the national anthem, with pride.
To round up the first part of the summer camp experience they were taken to a swimming pool in North Hebron, where they were able to enjoy the day in the water. Most the children do not have this experience often, if at all, outside the Summer Camp. It was a memorable time for them.
Bearing this in mind, one of the most noticeable challenges of running the summer camp was the cutting of the water supply to the village of Al-Masara where the School is located. For the last four weeks some of the villages in Bethlehem have suffered in forty degree Celsius weather, without any water supply to the houses, which is imposed by the Israeli occupation, each summer.
According to a report issued by Amnesty International, the average Palestinian consumes 70 liters of water a day compared with 300 liters by Israeli citizens. In rural areas consumption can be as low as 20 liters per day, the minimum recommended for domestic use in emergency situations.
In the rural villages, including Al-Masara, nearly 180 000- 200 000 people have been reported to have no running water at all during the Summer time. The building of wells is tightly restricted, where permits are required and virtually impossible to obtain. Water tanks are often destroyed or confiscated, and the collecting of rainwater has been reported to be prevented by soldiers.
During the period of the Summer Camp we have made some footage of the daily lives of the children, including their hopes and ambitions for the future which they were eager to share. With time we hope to compile a documentary about the struggles they face, and the undeniable reserve and resilience they have for creating a better future.
We would like to thank everyone who donated .special thanks to  our good American friends from united state ( California), also many  many  thanks  to all of you one by one .also thanks to Imam El-Krouf and the Llandudno Islamic Centre in Wales, thanks Cardiff Palestine Solidarity Campaign, Bedfordshire University Palestinian society, all our individual donors and of course, thanks PCCH for their hard work during this time. And AL Noor foundation who following the summer camo during all problems we face it .
Message from  whole kids they attend the summer camp to all supporter of summer camp:
We are children from AL Ma'sara village and nigh village south of Bethlehem we would like to thanks all of you for your supporting and gave us the chance in these holiday for have these happiness days to attend the summer camp and to have that beautiful day in swimming pool and to have the simple food and drinking in same time we are suffering for no water and cutting water by Israeli occupation . let us to say to all of you we  would like to meet all of you and welcome you in our village in our houses and we hope next summer camp you attent the summer camp with us. 
---
---